Marsaxlokk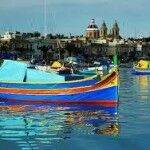 Since the early 1980s the then called Society for the Study and Conservation of Nature, now Nature Trust (Malta), showed interest in this area especially due to the fact that the site was undergoing constant and severe degradation, particularly when work started on the Power Station when the area was used as a dumping ground for rubble excavated from the Power Station site. Legal protection was seen as being the only way to limit these effects and finally the Marsaxlokk Saline Marshland was declared protected and given its status as a Nature Reserve in 1983.
Marsaxlokk's coastal saline marshland develops in sheltered areas on sediments which are covered with surface water during part of the growth season. Saline marshlands are directly affected by how close they are to the sea and they form a link between the marine, freshwater and terrestrial environments.
Locally we only find six sites which hold a saltmarsh habitat in a relatively good state and the rarity of saline marshlands makes them an even more valuable component of our islands' natural heritage. Hence, such sites are listed as localities with a high conservation value. Many species have already been lost while others are particularly at risk due to their very restricted distribution.
Vegetation
The conditions in a salt marsh are quite harsh and such environments require a high degree of specialization, mainly due to the high salinity. Most plants are therefore halophytes. The site supports healthy populations of some rare species which have a very restricted distribution in the Maltese Islands, such as Halimione portulacoides (introduced here as a salvaged species in 1989), Carex extensa which was transplanted here from its only know locality at Wied Musa (Marfa) and Juncus maritimus which regenerated, mainly on its own. Tamarisk trees planted by volunteers are regenerating on their own and the introduced Phragmites australias has established a reed bed.
The saltmarsh proper is dominated by many species with the more common being Arthrocnemum macrostachyum, Inula crithmoides, Salicornia ramosissima, Salsola soda and Atriplex halimus. The abandoned field used to be a trapping site and now supports Halimione portucaloides, Atriplex halimus, Inula crithmoides, Suaeda vera and Tamarix africana. The reclaimed area sub-region was extensively engineered and consists of systems of canals and a ditch around a higher outcrop of land. Some parts are still mainly dominated by ruderals but elsewhere an increase in species diversity has been noted.