Press Release –
Nature Trust – FEE Malta today released three more turtles from the Blue Flag Beach of Golden Bay. 3 August 2017
Three turtles were released today from Golden Bay after months of rehab at San Lucjan
Europa – a three year old turtle that was recovered off shore in the White Tower Bay area on 9 May 2017 (Europe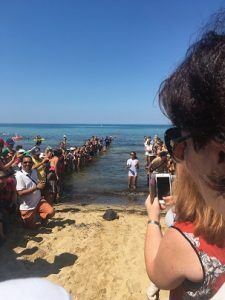 Day) . She had been found floating trapped in entanglement and with an embedded hook. She was one of the first turtle to be operated with the new Endoscope purchased by the organisation partly funded by the Ministry for Sustainable Development, Environment and Climate Change. This new equipment which cost in the region of Eur 15,000 is now making it possible for injured turtles to recover faster when operated on the removal of Hooks.
Myrtle – an 8 year old turtle rescued from Xlendi Gozo area in January 2017 – she was founded with an embedded hook and a wound in the front flipper caused by the fishing line coming out. AS the hook was embedded too deep in the stomach of the animal, the turtle was treated in order to help it expel the hook and line. Following treatment the hook and line were expelled a month ago. After being monitored for one month, the Vet Dr A Grupetta certified it for release.
Moana – a 12 year old turtle was one of the latest to be rescued. It was rescued by a boat sailing from Sicily to Malta where the people on the boat noted that it was not diving and swimming loop sided. The turtle was brought to shore and passed to Nature Trust – Wildlife Rescue. Following treatment it fully recovered. The turtle was called after the girl on the boat whose parents saved the turtle
Nature Trust – FEE Malta is at the moment raising awareness on the rescue of injured turtles in order to reduce complications leading to sometime death. In its campaign – It is appealing to the public that come across an injured turtle, especially those with fishing lines, to never pull the line or attempt to cut the line – but leave this operation in the hands of the Vets. A common mistake of animal well wishers is they pull at lines to cut lose – at times causing internal organs or tissue to tear inside the turtle which often leads to death a few days later. Furthermore entangled lines could be holding a blood clot and, that when the lines are removed, it could also cause death.
NTM spokesperson said that – In many cases of death turtles we come across, the necropsy shows that there were torn intestines or stomach tears. This would have been caused by line pulling – at times by people who think they bare helping the poor animal. It is so sad to see such marine reptiles dying because of a simple mistake often done by those who try to save it.
The organisation also appeals to well wishing fishermen who at times cut turtles lose off long lines, to cut line only some 15 cms away from the mouth and not longer,. In this way if turtle ingests line or is recovered, the vets do not have the challenge to try and get meters of fishing line out of the turtle. This too at times is the cause of deaths. The 15 Cms allows the Vet to follow the line in with the endoscope and then be able to remove the hook.
Turtles have been on our planet for 200 million years – well before humans appeared. Today this magnificent animal is in danger of extinction due to pollution, marine debris, by catch fishing and climate change -all human activities.
Anyone finding an injured marine turtle can call Nature Trust Emergency Number 99999505 or the Environment Authorities on 99210404 or Animal Welfare Department.
NTM is also raising funds to continue its work with wildlife rescue and rehabilitation. The NGO depends on donations and sponsors and to date does not get any financial support from the Government. Each turtle can cost the NGO hundreds of Euros. Therefore it would like to thank the latest sponsors Mr Green and Oil Tanking Malta Ltd who over the last year helped us finacially
Thanks also go to the Armed Forces, the Police. Animal Welfare, ERA, The Malta Aquaculture Research Centre, the Malta Tourism Authority and the Mellieha LC for their Support. (Photo Ms J Fenton – NTM Volunteer)