Press Release – Save Wied Ghomor from unsustainable development
Nature Trust – FEE Malta who has been supporting the residents of San Gwann, Swieqi and St Julian's in favour of protecting Wied Ghomor for over 2 years, hopes that the appeals tribunal will decide the case based on the common good – not just for the residents of the surrounding towns but for all Maltese residents and those yet to share our heritage in the future.
Wied Ghomor together with its tributary Wied il-Kbir is literally the last lung in an overcrowded North Harbour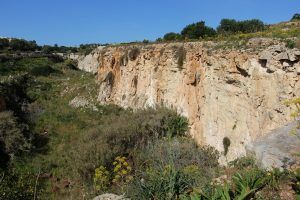 region which supports a third of the Maltese population alone.
It is about time that the Planning Authority stops appeasing developers by allowing ODZ land to be developed under the excuse that it is degraded. The quarry in caption which​,​ after just 15 years ​lying idle has already showed signs of natural colonization, could be very easily be rehabilitated into an adventure area – a much needed space for youth and adventurers of all ages. In a country which sadly ranks worst in Europe ​in having ​the highest obesity rates and consequential diseases, such spaces would encourage an active lifestyle and mitigate the pollution generated in the areas due to the high density ​of​ built-up areas – which are doomed to increase with the development of Villa Rosa area, the ex-ITS area and Paceville – all of which lie in the vicinity.