NTM urges authorities to commit themselves too
Nature Trust – FEE Malta commends the national clean up event organised by Let's Do it Malta and JCI on Saturday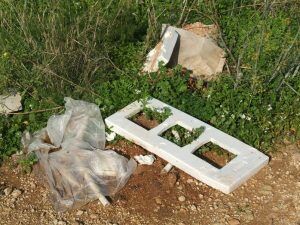 where tons of litter were collected from every corner around Malta. It was great to see citizens and foreigners all eager to clean up our island and countryside from what other very irresponsible people leave behind or dump irresponsibly.
NT-FEE Malta now hopes that the authorities will pull up their socks and make sure what was cleaned remains clean and that law enforcement is enforced. It is about time that the law backs such initiatives. The NGO stated that despite various clean ups it and other NGOs do, after just a few weeks most of the sites end up full of litter again.
Nature Trust said that in Pembroke alone over 750kgs of waste were collected by some 160 volunteers including the AFM, Leave Pembroke Alone, Nature Trust volunteers and many foreigners.
A lot more remains in an area where alien acacia trees grow and are becoming a common hideaway from litter tippers when they drive into the area with their vehicles and dump all they have. NT-FEE Malta has been working with the Environment Resource Authority, MTA and the Local council to have these trees removed and replaced with local flora for some time now, especially since acacia not only cause harm to the garigue habitat at Pembroke but are now hiding illegal activities.
NT-FEE Malta stresses that it is about time green rangers are deployed in Natura 2000 sites to ensure that people do not litter again and heavy fines should be imposed to law breakers. The authorities should wake up and support the public and not expect the public to clean time and time again litter that will accumulate in such sites within a few days. Law abiding citizens are not there to support law breakers who do not have the decency to get rid of their litter the legal way and then wait for others to do it for them while the authorities just watch.